4.5 Outcome Identification
Open Resources for Nursing (Open RN)
Outcome Identification is the third step of the nursing process (and the third Standard of Practice set by the American Nurses Association). This standard is defined as, "The registered nurse identifies expected outcomes for a plan individualized to the health care consumer or the situation." The RN collaborates with the health care consumer, interprofessional team, and others to identify expected outcomes integrating the health care consumer's culture, values, and ethical considerations. Expected outcomes are documented as measurable goals with a time frame for attainment.[1]
An is a "measurable behavior demonstrated by the patient responsive to nursing interventions."[2] Outcomes should be identified before nursing interventions are planned. After nursing interventions are implemented, the nurse will evaluate if the outcomes were met in the time frame indicated for that patient.
Outcome identification includes setting short- and long-term goals and then creating specific expected outcome statements for each nursing diagnosis.
Short-Term and Long-Term Goals
Nursing care should always be individualized and patient-centered. No two people are the same, and neither should nursing care plans be the same for two people. Goals and outcomes should be tailored specifically to each patient's needs, values, and cultural beliefs. Patients and family members should be included in the goal-setting process when feasible. Involving patients and family members promotes awareness of identified needs, ensures realistic goals, and motivates their participation in the treatment plan to achieve the mutually agreed upon goals and live life to the fullest with their current condition.
The nursing care plan is a road map used to guide patient care so that all health care providers are moving toward the same patient goals. are broad statements of purpose that describe the overall aim of care. Goals can be short- or long-term. The time frame for short- and long-term goals is dependent on the setting in which the care is provided. For example, in a critical care area, a short-term goal might be set to be achieved within an 8-hour nursing shift, and a long-term goal might be in 24 hours. In contrast, in an outpatient setting, a short-term goal might be set to be achieved within one month and a long-term goal might be within six months.
A nursing goal is the overall direction in which the patient must progress to improve the problem/nursing diagnosis and is often the opposite of the problem.
Example. Refer to Scenario C in the "Assessment" section of this chapter. Ms. J. had a priority nursing diagnosis of Fluid Volume Excess. A broad goal would be, "Ms. J. will achieve a state of fluid balance."
Expected Outcomes
Goals are broad, general statements, but outcomes are specific and measurable. are statements of measurable action for the patient within a specific time frame that are responsive to nursing interventions. Nurses may create expected outcomes independently or refer to classification systems for assistance. Just as NANDA-I creates and revises standardized nursing diagnoses, a similar classification and standardization process exists for expected nursing outcomes. The Nursing Outcomes Classification (NOC) is a list of over 330 nursing outcomes designed to coordinate with established NANDA-I diagnoses.[3]
Patient-Centered
Outcome statements are always patient-centered. They should be developed in collaboration with the patient and individualized to meet a patient's unique needs, values, and cultural beliefs. They should start with the phrase "The patient will…" Outcome statements should be directed at resolving the defining characteristics for that nursing diagnosis. Additionally, the outcome must be something the patient is willing to cooperate in achieving.
Outcome statements should contain five components easily remembered using the "SMART" mnemonic:[4]
Specific
Measurable
Attainable/Action oriented
Relevant/Realistic
Timeframe
See Figure 4.9[5] for an image of the SMART components of outcome statements. Each of these components is further described in the following subsections.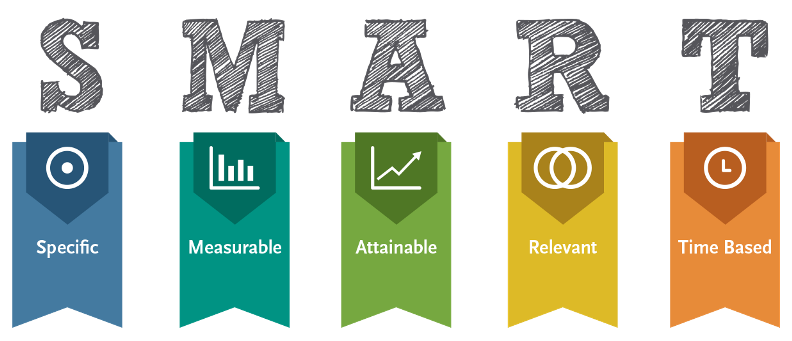 Specific
Outcome statements should state precisely what is to be accomplished. See the following examples:
Not specific: "The patient will increase the amount of exercise."
Specific: "The patient will participate in a bicycling exercise session daily for 30 minutes."
Additionally, only one action should be included in each expected outcome. See the following examples:
"The patient will walk 50 feet three times a day with standby assistance of one and will shower in the morning until discharge" is actually two goals written as one. The outcome of ambulation should be separate from showering for precise evaluation. For instance, the patient could shower but not ambulate, which would make this outcome statement very difficult to effectively evaluate.
Suggested revision is to create two outcomes statements so each can be measured: The patient will walk 50 feet three times a day with standby assistance of one until discharge. The patient will shower every morning until discharge.
Measurable
Measurable outcomes have numeric parameters or other concrete methods of judging whether the outcome was met. It is important to use objective data to measure outcomes. If terms like "acceptable" or "normal" are used in an outcome statement, it is difficult to determine whether the outcome is attained.  Refer to Figure 4.10[6] for examples of verbs that are measurable and not measurable in outcome statements.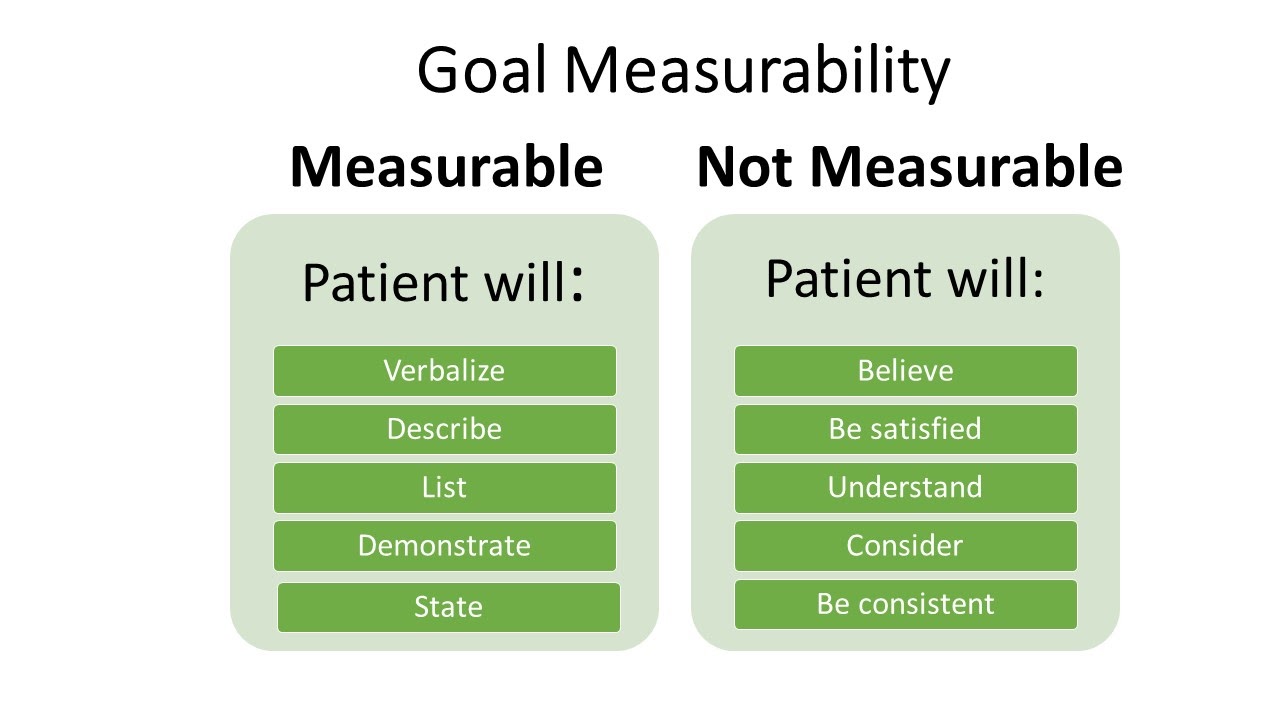 See the following examples:
Not measurable: "The patient will drink adequate fluid amounts every shift."
Measurable: "The patient will drink 24 ounces of fluids during every day shift (0600-1400)."
Action-Oriented and Attainable
Outcome statements should be written so that there is a clear action to be taken by the patient or significant others. This means that the outcome statement should include a verb.  Refer to Figure 4.11[7] for examples of action verbs.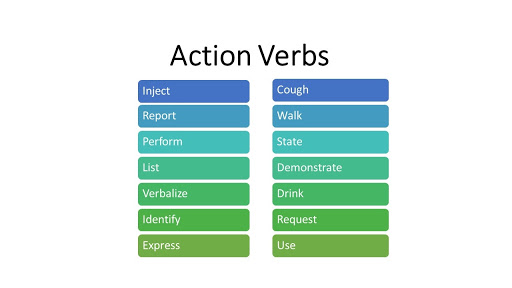 See the following examples:
Not action-oriented: "The patient will get increased physical activity."
Action-oriented: "The patient will list three types of aerobic activity that he would enjoy completing every week."
Realistic and Relevant
Realistic outcomes consider the patient's physical and mental condition; their cultural and spiritual values, beliefs, and preferences; and their socioeconomic status in terms of their ability to attain these outcomes. Consideration should be also given to disease processes and the effects of conditions such as pain and decreased mobility on the patient's ability to reach expected outcomes. Other barriers to outcome attainment may be related to health literacy or lack of available resources. Outcomes should always be reevaluated and revised for attainability as needed. If an outcome is not attained, it is commonly because the original time frame was too ambitious or the outcome was not realistic for the patient.
See the following examples:
Not realistic: "The patient will jog one mile every day when starting the exercise program."
Realistic: "The patient will walk ½ mile three times a week for two weeks."
Time Limited
Outcome statements should include a time frame for evaluation. The time frame depends on the intervention and the patient's current condition. Some outcomes may need to be evaluated every shift, whereas other outcomes may be evaluated daily, weekly, or monthly. During the evaluation phase of the nursing process, the outcomes will be assessed according to the time frame specified for evaluation. If it has not been met, the nursing care plan should be revised.
See the following examples:
Not time limited:  "The patient will stop smoking cigarettes."
Time limited: "The patient will complete the smoking cessation plan by December 12, 2021."
Putting It Together
In Scenario C in Box 4.3,  Ms. J.'s priority nursing diagnosis statement was Fluid Volume Excess related to excess fluid intake as manifested by bilateral basilar crackles in the lungs, bilateral 2+ pitting edema of the ankles and feet, an increase weight of 10 pounds, and the patient reports, "My ankles are so swollen." An example of an expected outcome meeting SMART criteria for Ms. J. is, "The patient will have clear bilateral lung sounds within the next 24 hours."
---
Review how to apply the nursing process for a patient with impaired sensation in the following scenario.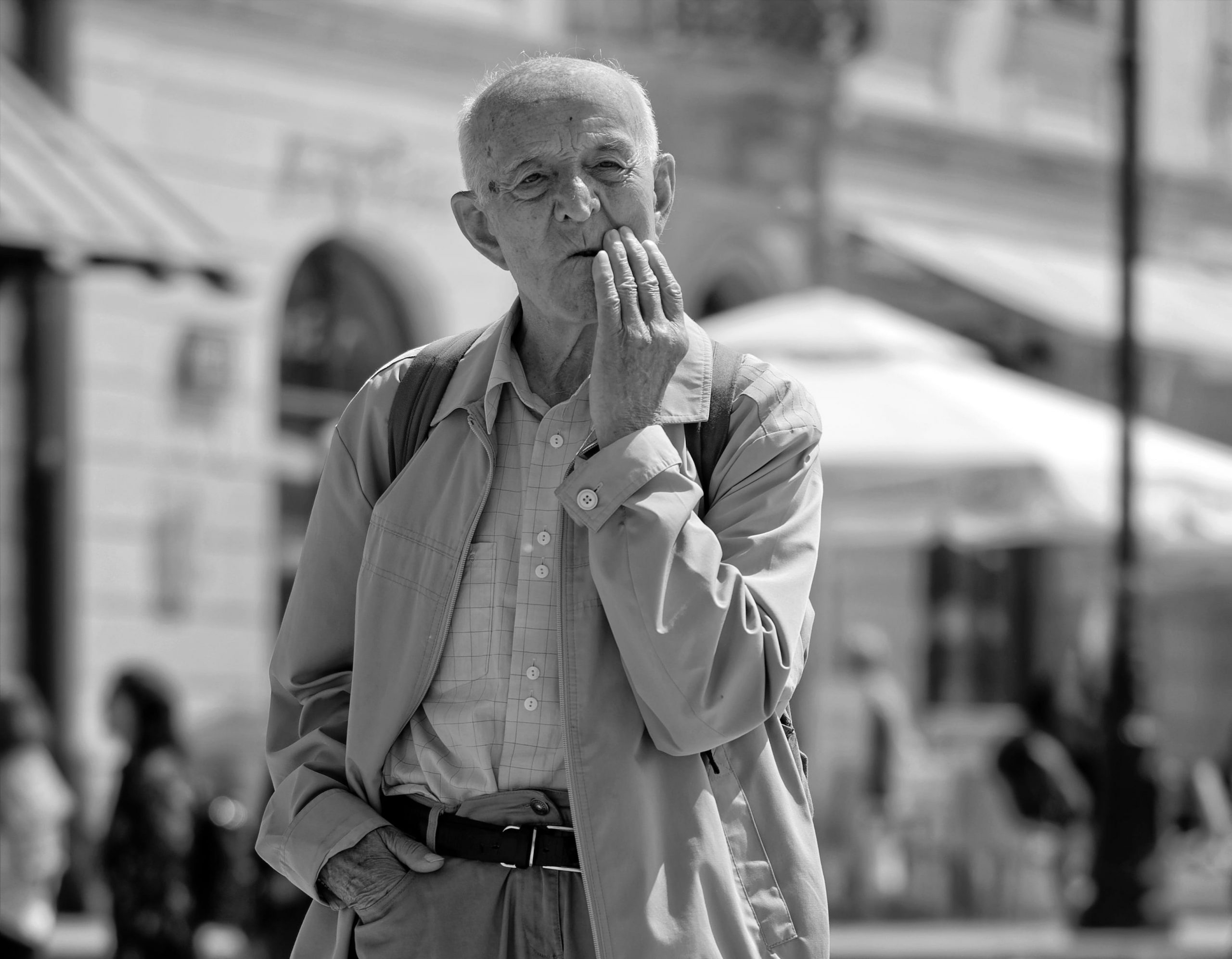 Patient Scenario
Mr. Mitchell, age 87, is accompanied to the primary care clinic with his daughter Elise. See Figure 7.5[1] for a simulated image of Mr. Mitchell. Elise tells the nurse that her father has been increasingly withdrawn and she has difficulty getting in contact with him during the week by phone. She is concerned that he is experiencing depression. Mr. Mitchell is alert, well-groomed, and smiling. As the nurse begins the initial assessment interview, it is noted that Mitchell smiles and nods a lot, but does not answer direct questions appropriately. Elise has shared that she has not noted problems with her father's ability to care for himself; he is paying his own bills and orders groceries online for delivery.
When questioned further about his answers, Mr. Mitchell admits that he is unsure what was asked of him. He is embarrassed about this and avoids asking people to repeat themselves. He also explains that his father had a hearing device, and it always "rang loudly" so he has not considered this option.
The nurse performs a whisper test and discovers he is unable to report any of the six words whispered behind him. She notes that Mr. Mitchell is interested in improving his ability to hear and participate in conversations with others.
Applying the Nursing Process
Assessment: The nurse performs a whisper test and discovers he is unable to report any of the six words whispered behind him. He is interested in improving his ability to hear and participate in conversations with others.
Based on the interview and assessment information, the following nursing care plan is created for Mr. Mitchell.
Nursing Diagnosis: Readiness for Enhanced Communication as evidenced by expressed desire to enhance hearing and communication.
Overall Goal: The patient will experience enhanced communication with improved hearing.
SMART Expected Outcome: Mr. Mitchell will attend an appointment arranged with an audiologist within two weeks.
Planning and Implementing Nursing Interventions
The nurse provides education about available hearing devices and encourages the patient to attend an appointment with an audiologist. While speaking to the patient, she faces him directly and provides good lighting so that he can read her lips. She shuts the door to the exam room to provide a quiet environment and uses short, simple sentences. She does not interpret nodding to indicate understanding. She shares her assessment findings with the provider and requests a referral to an audiologist and then assists the patient in making the appointment. She asks the patient and his daughter if they have any questions before they leave the clinic.
Sample Documentation
During the intake interview, the patient did not answer questions inappropriately or did not answer at all. Exhibited embarrassment when asking people to repeat their statements. Daughter states, "He is becoming increasingly withdrawn." Ear canals are clear without cerumen present. Unable to report six out of six words during the whisper test. Provided brief explanation of new technology available for hearing loss while standing directly in front of the patient, and he appeared to be able to slightly read lips. Encouraged consultation with an audiologist and notified the provider of assessment findings. Appointment made with the audiologist and communicated place, date, and time to the patient and his daughter.
Evaluation
During the next clinic appointment in two weeks, Mr. Mitchell is wearing a hearing aid device and answers questions appropriately. He reports that he has been attending more social events "now that I can hear better." The SMART outcome was "met."