2.3 Components of a Health History
The purpose of obtaining a health history is to gather subjective data from the patient and/or their care partners to collaboratively create a nursing care plan that will promote health and maximize functioning. A comprehensive health history is completed by a registered nurse and may not be delegated. It is typically done on admission to a health care agency or during the initial visit to a health care provider, and information is reviewed for accuracy and currency at subsequent admissions or visits.
A comprehensive health history investigates several areas:
Demographic and biological data
Reason for seeking health care
Current and past medical history
Family health history
Functional health and activities of daily living
Review of body systems
Each of these areas is further described in the following sections.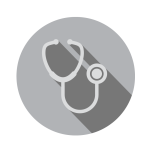 The "History and Physical" documentation in a patient's medical record is completed by a health care provider on admission to a health care agency. It is very similar to the health history obtained by a nurse and is helpful to read when caring for a patient for an overview of their treatment plan.