This is the second edition of the Open RN Nursing Skills OER textbook. This free online textbook is an open educational resource with CC-BY 4.0 licensing that has been developed for prelicensure nursing students. It is designed for use in both practical/vocational nursing programs, as well as for first-year courses in programs preparing students to become registered nurses. An additional Open RN OER textbook, "Nursing Advanced Skills," includes advanced skills such as intravenous infusion, blood product administration, management of central lines and chest tube systems, basic electrocardiogram interpretation, and nasogastric/feeding tube insertion. The Open RN project is supported by a $2.5 million Open Resources for Nursing (Open RN) grant from the Department of Education and is licensed under CC-BY 4.0 creative commons license. More information about the Open RN project can be found at cvtc.edu/OpenRN.
The second edition has been updated according to the 2023 NCLEX-PN and NCLEX-RN Test Plans, and additional NCLEX Next Generation-style learning activities have been added to each chapter. It is aligned with the Wisconsin Technical College System (WTCS) statewide nursing curriculum for the Nursing Skills course (543-102). View a list of updates made to the second edition based on the 2023 NCLEX Test Plans and suggestions received from WTCS nursing faculty.
This Open RN Nursing Skills OER textbook focuses on the development of evidence-based clinical skills and physical assessment across the life span routinely performed by entry-level nurses.[1],[2] Techniques related to obtaining a health history and basic physical assessment using a body systems approach are described and include sample skills checklists and instructor demonstration videos. Mathematical calculations and conversions related to clinical skills are also included. The first edition of Open RN Nursing Skills received an OE Award for Excellence from OE Global. For more information, visit the 2020 OE Awards for Excellence site.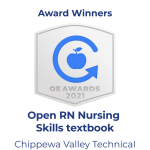 Several free, online, interactive learning activities are included in each chapter to encourage students to apply the nursing process while analyzing assessment findings and performing nursing skills. Additionally, in this second edition, NCLEX Next-Generation style questions are included in each chapter, with formative feedback immediately provided, to encourage the development of clinical judgment based on the NCSBN Clinical Judgment Measurement Model.
This online book can be downloaded as a PDF or other formats for offline use. The online version is required for interaction with the learning activities included in each chapter. An affordable print version is available for purchase from XanEdu and are available on Amazon or can be ordered by college bookstores. A free printable PDF version is also available for download on the Open RN website.
The following video provides a quick overview of how to navigate the online version.
---